"Year by year, Warsaw is becoming more and more multicultural, more than four thousand foreign students study in Warsaw schools. Most of them are immigrants, mainly Ukrainians, Belarusians, Vietnamese and Indians.

The game along with e-learning materials for the teacher and student, are to be an invitation to co-create a safe space for everyone, regardless of national or ethnic origin. We want to build Warsaw for everyone, tolerant and open to diversity, where we will live together with respect for our own identity."
Karolina Malczyk, Vice Director of Warsaw Center for Educational and Social Innovation and Training
Our Starting Point
Multiculturalism for contemporary Poland has not been a natural and obvious phenomenon and up until more recently, emigration has been the dominant trend. Until the second decade of the 2000s, immigrants in Poland were rare and the integration of foreign children in schools was not a priority for local governments.
The situation changed after the war in Ukraine, the liberalization of the right to work in Poland and a period of general economic growth. Many of these of these immigrants headed to Warsaw which is home to the largest and most diverse migrant population in Poland. Alongside this, there has been growing xenophobia, extreme right activity and aggression being shown towards foreigners. Schools, teachers, parents and - as a result - the children themselves were not prepared for this. There have been numerous cases of discrimination reported and even violence against foreign children.
Despite the absence of national integration policy, legislative solutions and government programmes, Warsaw is formulating bottom-up initiative. We have an established multi-stakeholder and multi-departmental network including 35 local NGos focused on integration and a Multicultural Centre financed by the City. We have excellent research and data on the nature of discrimination in the city and have already created an anti-discrimination campaign- "Varsovians are not afraid.
Magda Wojno
Why develop a game?
Through participation in Rumourless Cities, we were inspired by a school in Amadora. The school had become effectively a neighbourhood hub for the city anti rumour campaign 'Do Not Feed the Rumour'. Through the willingness and determination of teachers working together with pupils and the wider community creative actions served to reverse negative perceptions of the school and it's multicultural neighbourhood and foster positive attitudes towards diversity. A clear message from Amadora and these local educational experts was the importance of creativity and experiential play. We decided to focus our anti-rumour work on young people and schools and develop a game and app with structured classroom activities which could be made available to all our primary schools.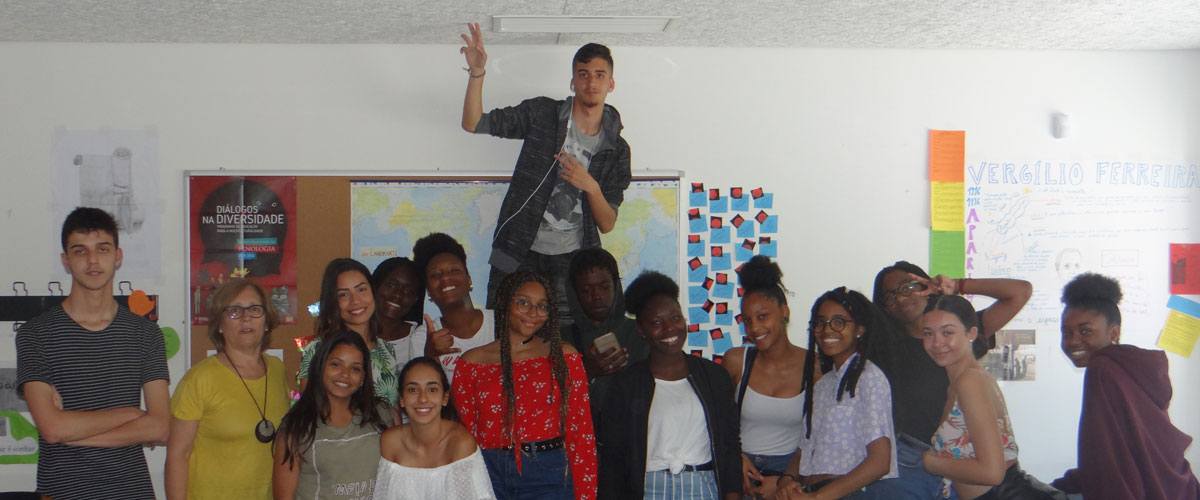 Teacher Elisa Moreira and her class in Amadora- an inspiration for our project
The cultural importance of digital games is well established with gaming now the world's favourite form of entertainment. There has more recently been a proliferation in the genre of 'games with purpose' and excitement over their potential to effect social behaviour and attitudes. In particular in the context of discrimination, games build empathy for other people in a simulated experiential way, touching on emotions. We had learnt that working on an emotional level and not just working with information is a key way in which people can examine and challenge their own attitudes, values and prejudices.
The game design process
We worked with local games design agency, Genere to develop their own collaborative and participatory game design process. We employed a 'design thinking' approach with the game development process iterative based on co-design, protyping and testing. The design thinking employed in this process has been a key learning for many of those involved from the Warsaw city team. It is not an approach commonly used in municipal departments. We worked with experts in education, child development and behavioural psychology during this planning stage.
We defined our goals to create a game that:
promoted empathy
builds a rejection of violence
builds skills to recognise and challenge discrimination
builds critical thinking skills and awareness of rumours/misinformation
supports the development of intercultural peer groups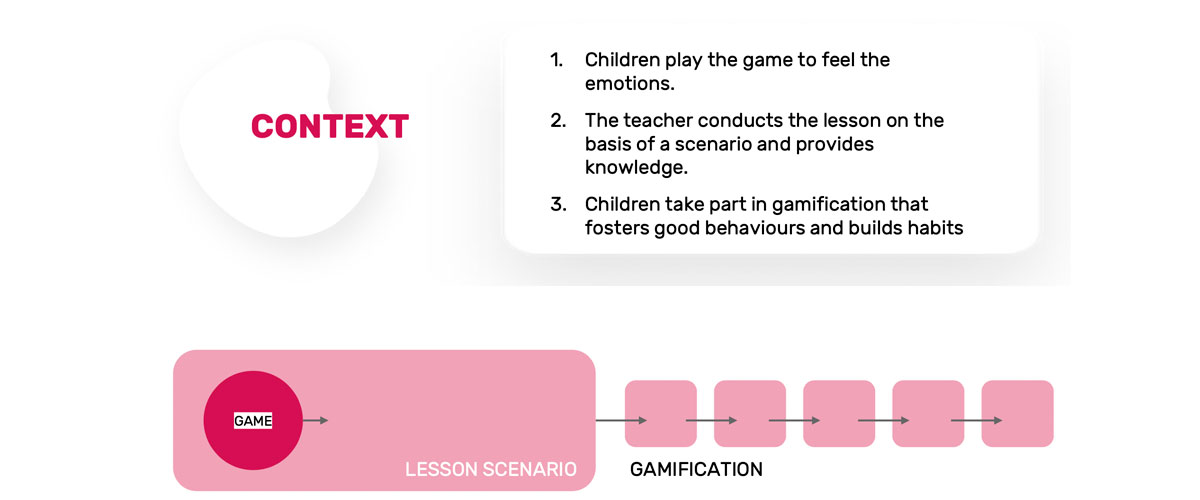 Game method
We decided to set our target group as 10-12 year olds. This age group were thought to be more flexible with their attitudes (although they are likely have already developed strong stereotypes and prejudices) and are less demanding in terms of the technological sophistication of the game product (particularly in terms of special effects) than teenagers.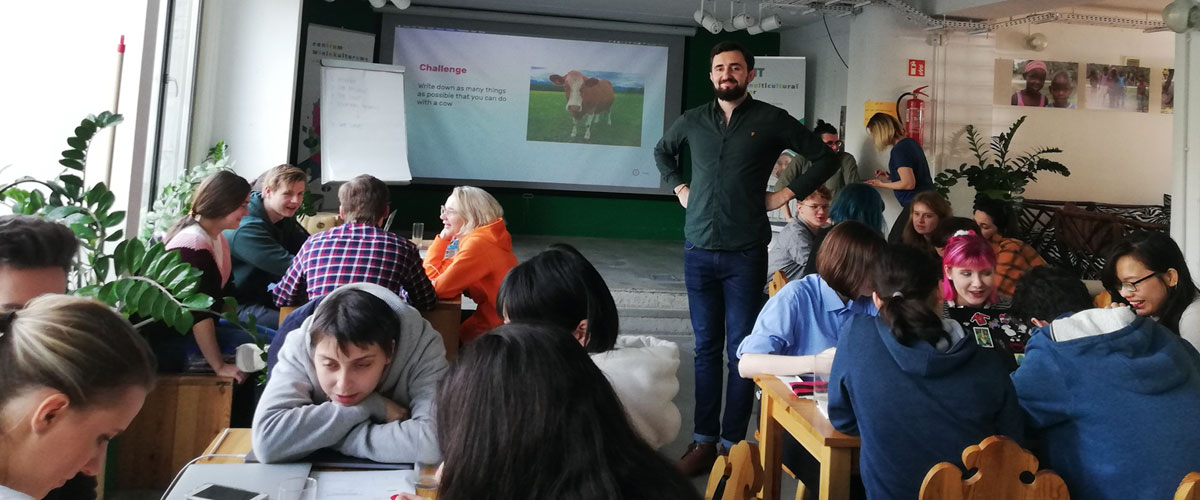 Hackathon
The process of game design involved a two-day hackathon event which brought together a wide mix of game designers, coders, students and young people of the game target age. A final game concept was selected by the 'children's jury'- the young people at the event. The game concept was then developed using player profiles to understand how the game could relate and appeal to different personalities.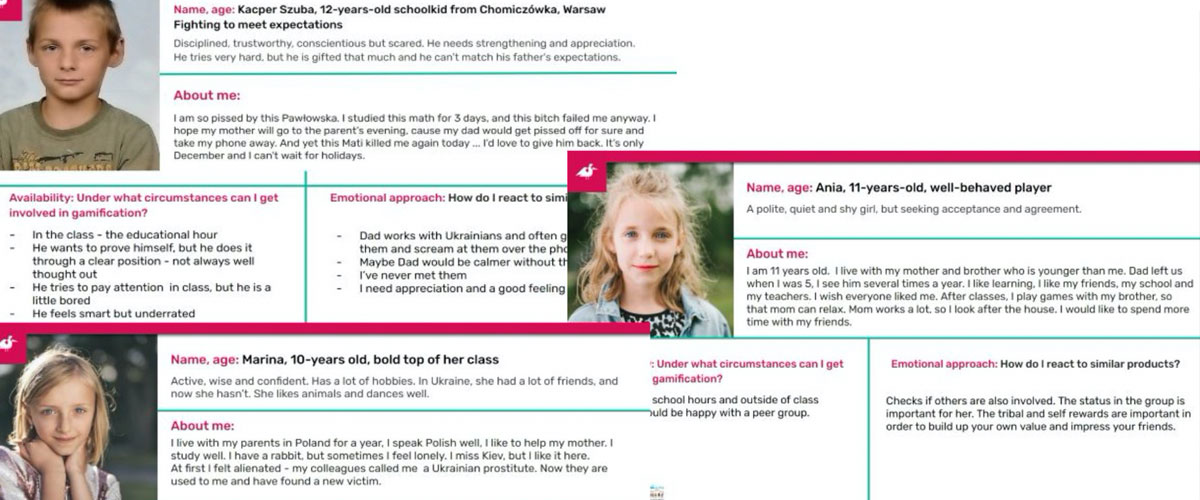 Player profiles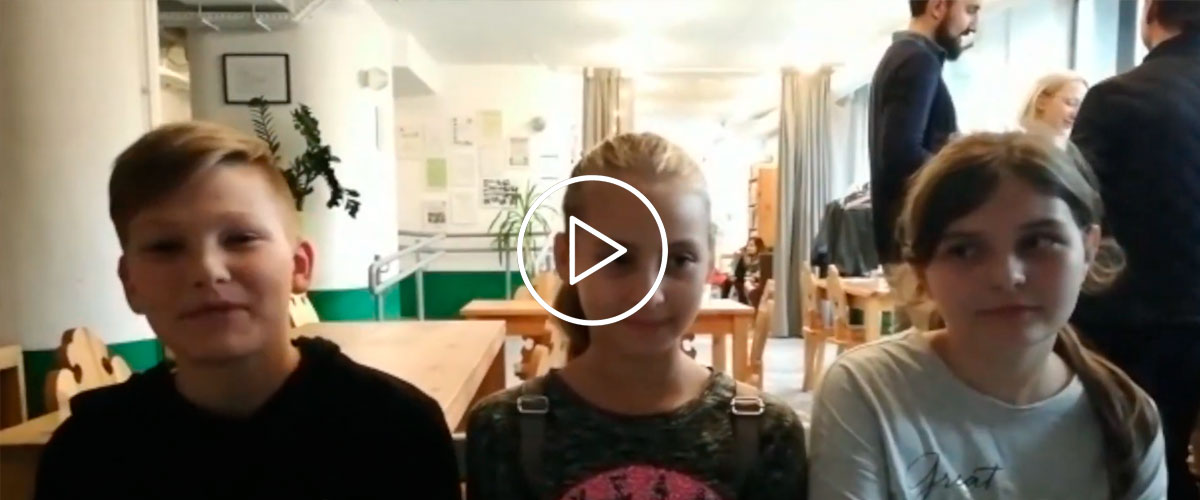 Participants at the Hackatron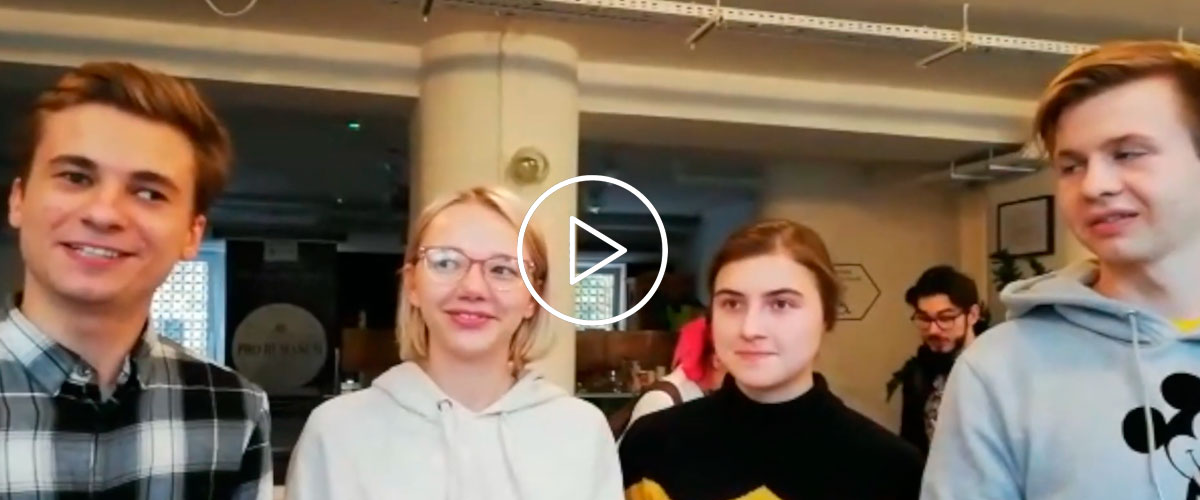 Participants at the Hackatron
The final product and it's Implementation
We commissioned digital design company CONTENT VALUE SA to create the final game product titled 'I am With You'- the game is collaborative based on the core message 'You are not alone, I am with you.' Players have to resolve disputes by considering facts, opinions and solutions.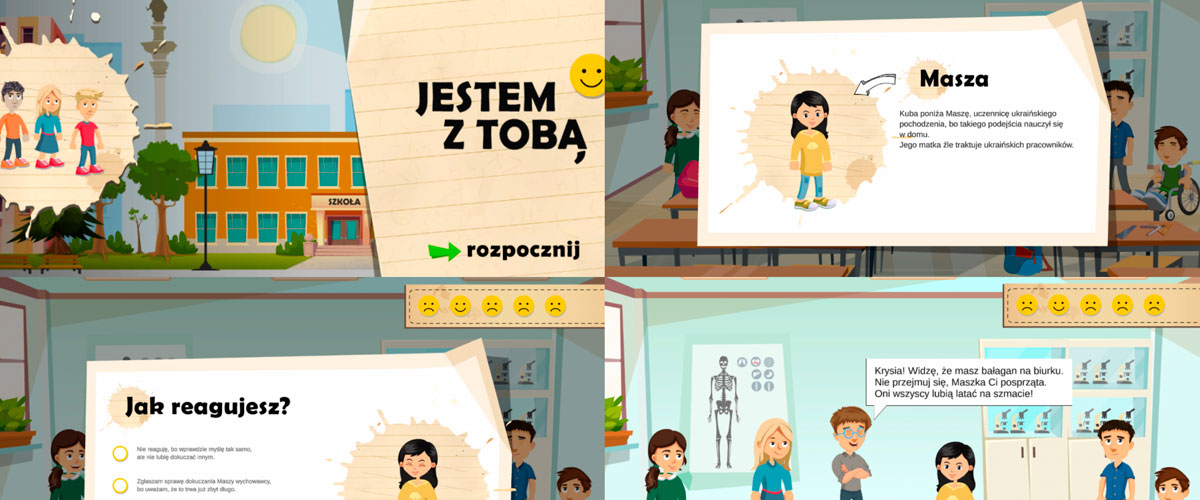 Graphics from the game 'I am With You'
Meanwhile the project team developed a partnership with the Warsaw Centre for Education, Social Innovation and Training to facilitate outreach with teachers and ensure take up and use of the game in Warsaw primary schools. This relationship was developed through local training provided by 2 creative educators from Amadora who facilitated a workshop for Warsaw based teachers and youth workers as part of the Rumourless Cities project. The aim is to have this game used by all primary schools in Warsaw.
"The opportunity to work locally with 2 experienced creative education practitioners involved in the Amadora anti-rumour campaign Do Not Feed the Rumour was extremely valuable and brought inspiration and energy to a local context and aspirations. This helped reinforce our relationship with Warsaw Center for Educational and Social Innovation and Training who have taken over responsibility of implementing the game in schools and working with teachers to make it a reality and part of school curriculums."
Olesya Malyugina, International Cooperation Office, Warsaw
This project created the context for more useful internal discussion about discrimination in it's many guises within schools and helped to challenge old teaching methods and promote thinking about the use of new technologies. The impact of Covid has meant that the game has evolved more specifically into an e-learning programme. In fact, the growth in e-learning over the past year has been a real opportunity for the initiative which being in part digital to begin with has been smoothly transformed into an e learning product. A major challenge common to most 'social impact' games is how to bridge the gap between the learning created by the game experience and effective behaviour change in the real world. How effective this game is remains to be seen.
Key Learning
Schools can be dynamic hubs for influencing local perceptions and fostering an appreciation of diversity. The case of schools in Amadora and the impact of creative teaching methods have had really inspired us.
Understanding that the process (ensuring participation, networking) can be even more important than the result itself.
The importance of having collective goals and live projects to keeping a local network dynamic and active.
The effectiveness of design thinking- including understanding the end user, prototyping and testing ideas and redefining problems to create products and services fit for those who they are for.
Contact:
Olesya Malyugina, City Council of Warsaw

This email address is being protected from spambots. You need JavaScript enabled to view it.