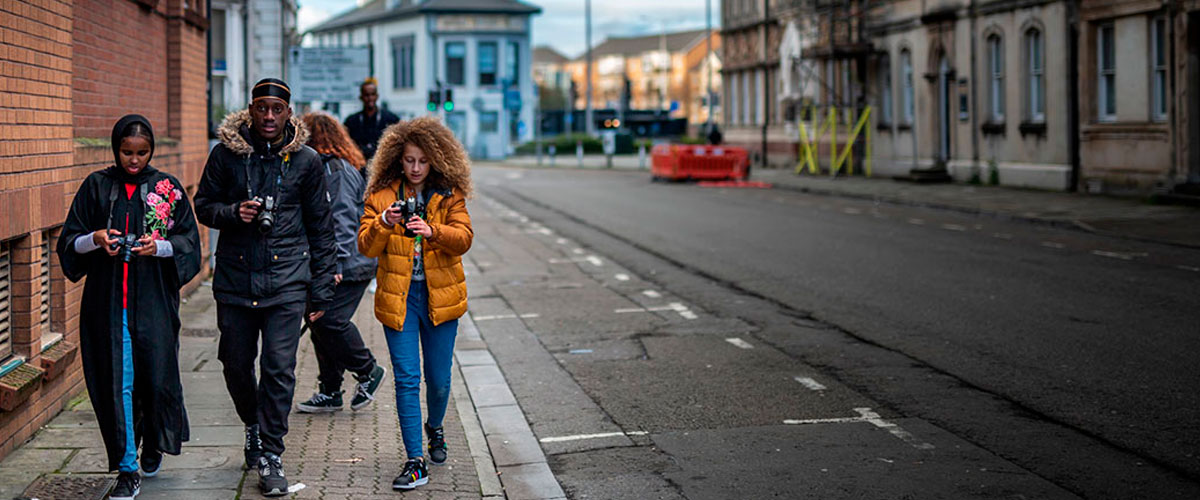 Cardiff street
Cardiff has a long history of international migration and has even been dubbed the 'birthplace of multiculturalism', owing to its super diverse docks area. We are a city of sanctuary located within a 'nation of sanctuary' (Wales).
"Our aspiration in joining the Rumourless Cities network was to develop a distinctive and modern approach to support community cohesion, which reflects our city's long history of international migration and helps our community to develop a shared sense of identity and belonging at a time where polarisation of views on many social issues is increasingly prevalent. The anti-rumour best practice of our URBACT network and that of lead city Amadora has been of interest to our city for some time and we were excited to see how we might adapt this practice locally."
Sian Sanders, Project Coordinator, Cardiff City Council
Our starting point
Cardiff is the capital of Wales and the UK's 11th largest city and has a population of approximately 360,000. It is a rapidly growing city and has a very young population. As a port city it has a long history of migration and diversity. However, historic migration was on a relatively small scale compared to the patterns of migration to the city in the last 30 years. Census data shows that between 2001-2011, Cardiff's non-UK born resident population grew by 22,849, or 98%- an effective doubling in size and since then it has continued to grow at a fast rate.
Staff working on Prevent (a national government counter terrorism strategy) noted an increase in far-right extremism and activity in recent years. Far right activists have targeted neighbourhoods where there is a high concentration of BME and migrant residents creating a climate of fear and sense of exclusion for some residents. At the same time our budgets have been significantly reduced. Collaboration with local voluntary and community sector partners is more important than ever. There are a number of voluntary sector organisations and initiatives which deliver ad-hoc anti-rumour/anti-prejudice work in Cardiff, including Hope not Hate, Show Racism the Red Card, Human Library Cardiff, various Sports Clubs with specific projects focused on building cohesion.
As a member of the Inclusive Cities network as well as Rumourless Cities network we established cross-sector 'Inclusive Cities' taskforce to enhance inclusion in Cardiff.
"Cardiff's participation in the Inclusive Cities and Rumourless Cities Programmes is of crucial importance to its role not only as a capital city but also as a leader in the field of migration".
"Priding itself on the warmth of the welcome, Cardiff understands that for its economic and civic success we must engage all citizens, long-standing residents and newcomers, to create a city that is ambitious, vibrant, and inclusive".
Councillor Susan Elsmore, Cabinet Lead for Migration
Our overall ambition was to develop a distinctive city brand and movement of residents and organisations who make a visible commitment to remaining an open and tolerant city.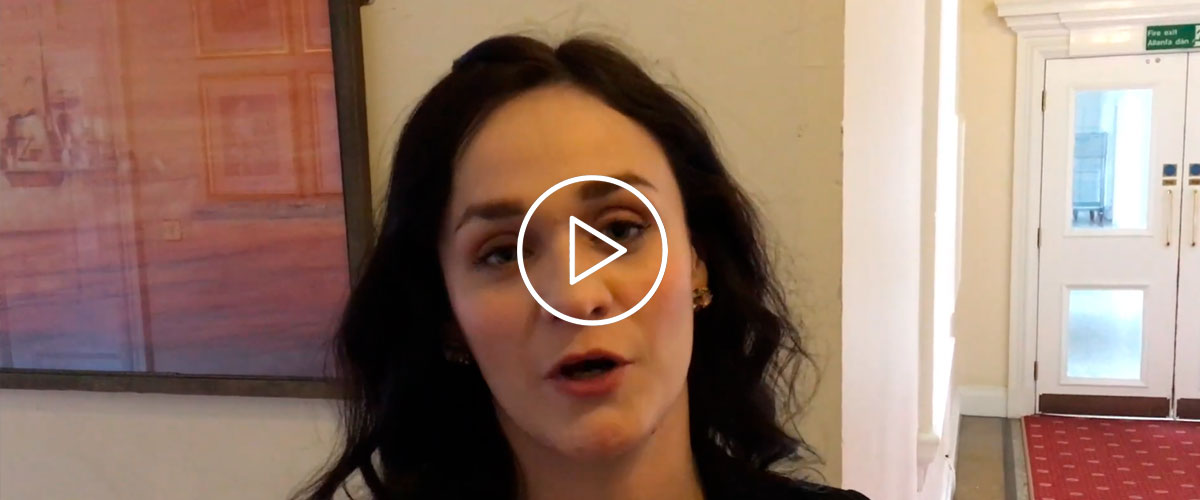 Sian Sanders

Understanding local experiences, fears and hopes for our city
Our lead partner Amadora stressed the importance of basing any actions and campaigning on accurate and locality specific research and baseline data. We commissioned research on local attitudes towards migration, cohesion and equality through the Fair City Survey at the beginning of 2020. This helped us understand the context more robustly and not base strategy on assumptions as well as to make possible any measurement of success/failure.
"We decided to adapt the 'anti-rumour training' to become more focused on developing residents skills in talking about divisive and difficult topics, rather than a myth busting programme as our evidence suggested that this can be counter-intuitive and produce a 'backfire effect'"
Sian Sanders, Project Coordinator, Cardiff City Council
Our history tells us how our city became a diverse and thriving capital as a result of migration from both within and outside of Wales. Our research found that residents from ethnic minority backgrounds feel unheard and unseen in the visual presentation of our city and that there is a continued imbalance of representation across sectors and positions of power. A starting point to address this inequality must be to tell our city's true story.
The Real Cardiff Photobank
Like a lot of cities, stock city photos show Cardiff largely as a place of impressive buildings and cityscapes but fail to show the real Cardiff- of incredibly diverse communities and cultures. Furthermore, these 'official' photos are often produced by professional companies/photographers who are not diverse in terms of their background and don't understand the lived experience of the city.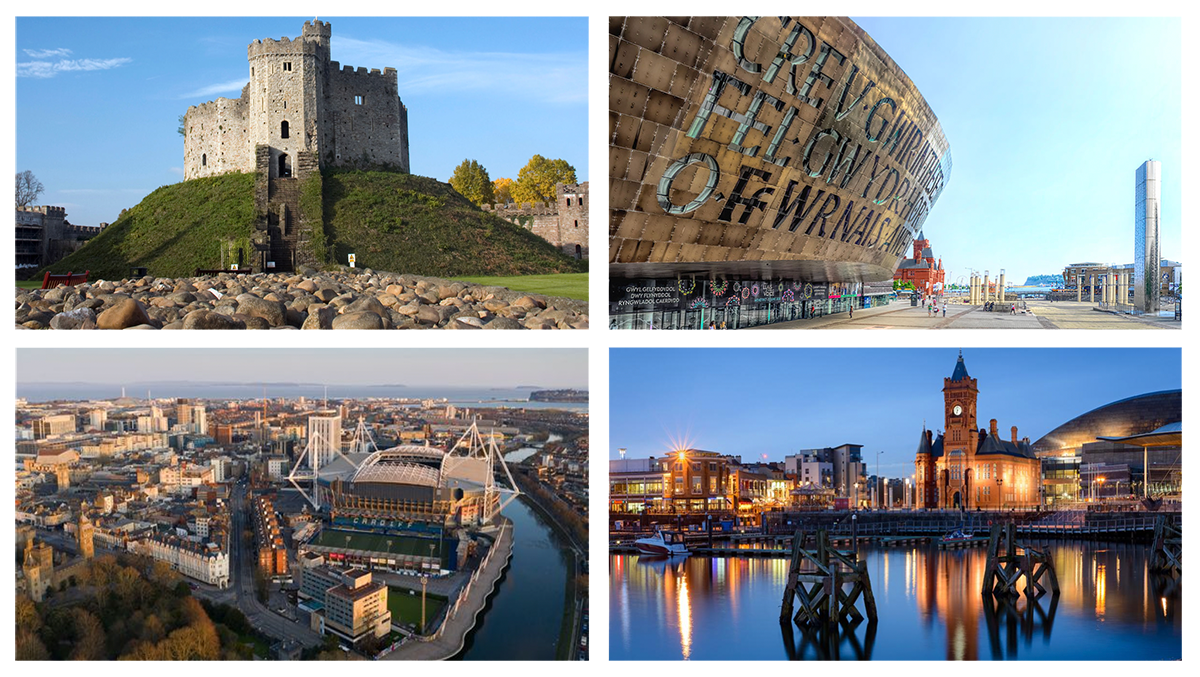 Cardiff
The way cities are presented visually through marketing and media communications has a huge impact on the psychology of place, the city's narrative and ultimately who feels included or excluded. Our research showed that the council was not being rigorous enough in terms of visual identity, for example with social media communications about being a fair and inclusive place being accompanied with stock photos devoid of people and culture.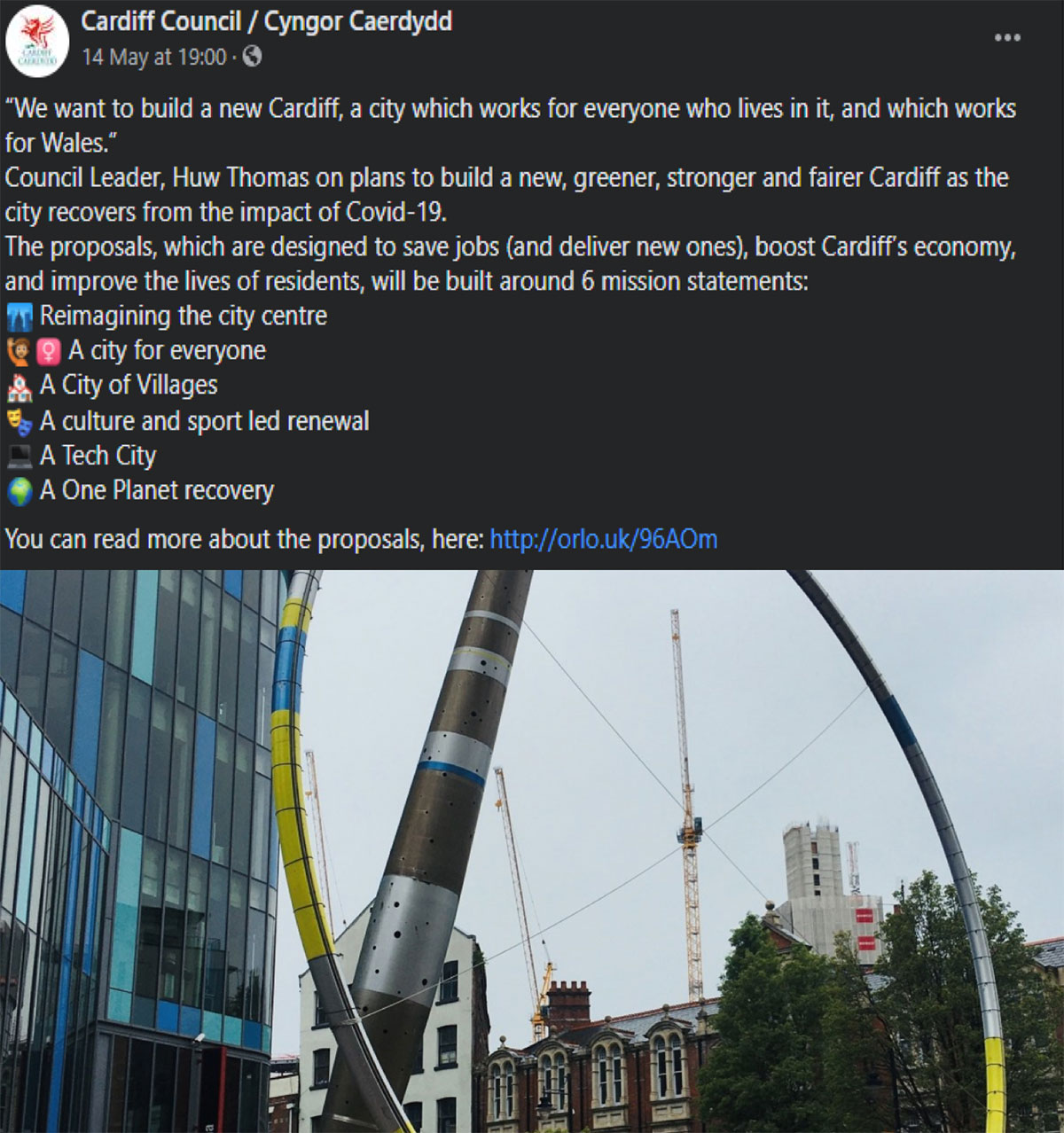 Cardiff Council social media post
Our project has supported a group of young residents from ethnic minority backgrounds to document the parts of Cardiff that have meaning for them, telling their community's history and personal journey through photograph. We worked with a local photographer and youth worker Yusuf Hussein to facilitate workshops in photography and partnered with a local college Coleg Gwent to ensure that participants achieved a formal qualification in photography. Attracting sponsorship from Nikon, participants were able to access high quality equipment.
"During the creation of this photo series a lot of people were quite surprised to see a Black man carrying a camera. Especially People of Colour who didn't know photography was a viable option".
Yusuf Hussein, photographer
A previous project of Yusuf's, 'My city, my shirt' used the shirt of the local football club, Cardiff City to celebrate the diversity of the city which was depicted visually through photographs and murals to bring representation into public places.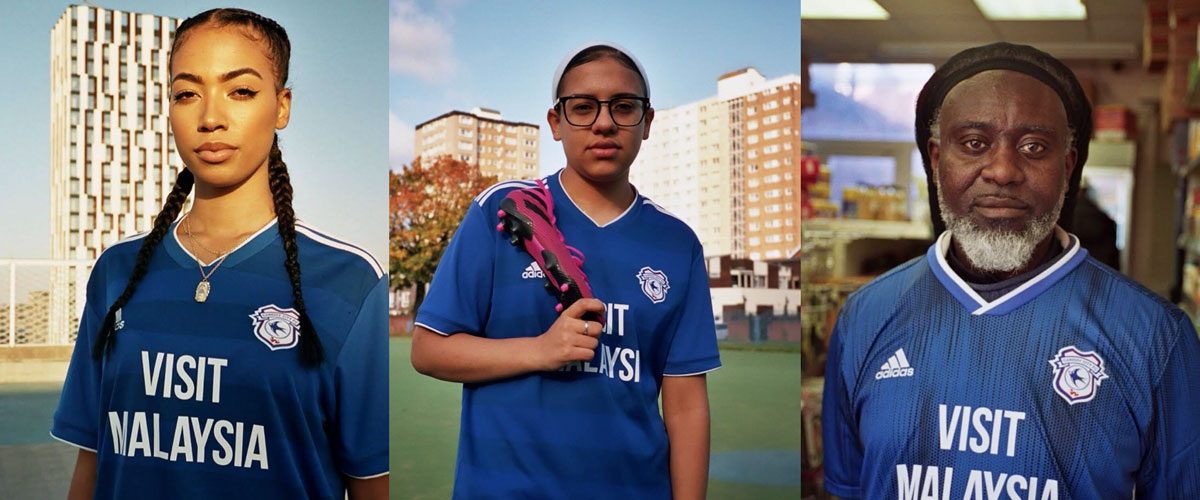 Our City, Our Shirt project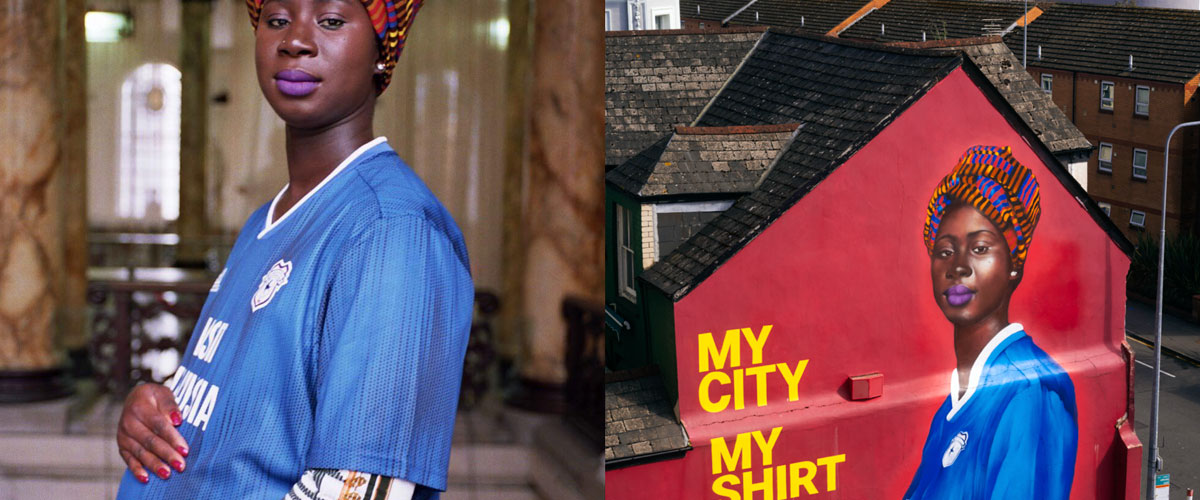 Our City, Our Shirt mural
The photos taken by the young photographers will be stored as stock photos for the city and used to represent the city. However, more important than these products is the process of building an inclusive narrative- it is the process which offers opportunities for local ownership and engagement of the narrative…so that those marginalised are not the subject but the generators of content and there is a redistribution of power and agency.
Rebuilding a fairer and more equal city with our communities
Evidence shows that the Coronavirus pandemic has sown heightened societal division however, national polling, particularly at the beginning of the pandemic, pointed to the prospect of an increased sense of community and solidarity. Additionally, social movements such as BLM and media coverage of the Channel crossings of asylum seekers seeking sanctuary in the UK is influencing and reshaping public opinion on migration, diversity and belonging. Moving forward we will implement our project, Community Conversations (which was originally planned for early 2020 but made impossible by Covid-19) to bring residents from different backgrounds and experiences together to explore how we rebuild our city as a fairer and more equal place as we emerge from the pandemic.
Key Learning:
Through participation in Rumourless Cities we developed an enhanced understanding of 'what works' and how to best allocate resources in our future work. We discovered the importance of:
developing a detailed evidence base on local social attitudes towards migration and diversity which has highlighted untapped opportunities where there are groups of residents who are keen to support local welcome;
testing and evaluating narrative frames, communications methods and delivery approaches with our residents trough community conversations;
fully understanding barriers faced by those rarely heard in local policy making such as those on low incomes and finding creative, practical solutions to rectify this such as participation funds;
focusing on those in the 'middle' of the spectrum in terms of attitudes, who are often better reached by anti-migrant and anti-diversity voices, and that this group is the majority of the population;
tailoring messaging to respond to the values and perspectives of the audience;
having a supportive and active Council Leader and Cabinet who are strong advocates for the work.
Contact:
Sian Sanders, Cardiff City Council

This email address is being protected from spambots. You need JavaScript enabled to view it.